You can fix it in post…
We have been very pleased with how powerful and compelling a film TransGeek turned out to be. And yet, there are those professional touches that make all the difference. Color correction is one of those touches. I spent last week in New York City working with Aharon Rothschild of Possible Impossible to work on those rough bits that arise when the pressure of getting an interview compromises the quality of the image. The results were dramatic. Ari is a master of his craft, and TransGeek is looking fine.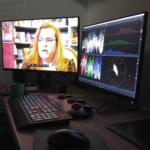 …and none too soon
…prefer a cooler climate?
We will be screening at the public library in Ottawa, Ontario on Aug 23rd, as part of
Capital Pride
! We will post details about the screening time as soon as they are available.
…and then there are the laurels.
We have been accepted to our first festival! Tilde, Melbourne Trans & Gender Diverse Film Festival; in Victoria, Australia in November. We are very excited, and are looking into ways to travel to Melbourne to participate in the festival.
More screenings are in the works, and we await the decisions of more festivals. We will let you know when TransGeek will be in your city.
Thanks to all of you for making this all possible.
---
Edit 3/Jul/2017 14:47EDT:
Edit to correct typos, insert color correction image, and delete reference to Luststreifen – Queer Film Festival. Due to a change in personnel at the festival, the acceptance we received was erroneous.