In mid October, I set out for the Boston area to conduct more interviews. Over the course of three days I talked with six people. I had the opportunity to speak with some of the creators of my favorite science fiction; both print and audio. With out exception all of my interviewees were insightful and intelligent. I can hardly believe my fortune in being able to work with all of these great people.
Julia Rios writer, editor at Strange Horizons, and Co-fonder of The Outer Alliance; welcomed me into her home for an on-camera interview. We talked about genre fiction and how some authors use it as a venue for the exploration of gender identity. The Outer Alliance blog, and podcast have been a great resource fo me while researching this film. The podcast is also the frist place I heard the term QUILTBAG.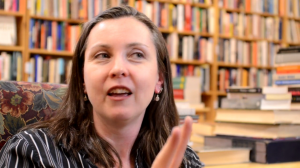 Jennifer Pelland author, most recently, of  Machine, Unwelcome Bodies, and a contributor to Chicks Unravel Time, met me for an interview at Back Page Books. Jennifer deals with many aspects of gender and body image in her Science Fiction. She talked about the power of fiction, and science fiction in particular, to explore and influence societal norms. She also expressed some definite opinions regarding gender essentialism in popular science fiction.
I also visited with Renate Pyhel electrical engineer, hardware hacker, and musician. We talked at length, both on camera and off, about the challenges of dealing with issues of gender in the context of a technical workplace. She also gave me a demonstration of her amazing Android hacking skilz.
Gina Kamantski animator, sculptor, comic book author, and educator; sat down with me at her studio.  She spoke eloquently on the creative process and ambiguity in the intersection of art and gender. Schedule constraints made our interview all too short.  Hopefully we will have a chance to continue this conversation at a later date.
Alicia Gorenson is the author of Supervillanz , and the Parsec Award winning radio drama The Mask of Inanna. She talked about the opportunities to write sympathetic, compelling, powerful trans characters in fiction: Observing that science fiction is a genre where she creates the world, and the reader is obliged to accept the defining premises of that world. We also discussed her largely positive professional experience at her "day job".  I had the aditional good fortune to be introduced to Alicia's ftiend Susan…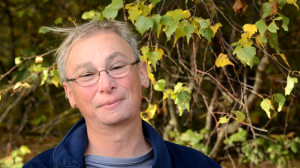 Susan Wolf, worked as Electrical Engineer in the medical devices industry, until losing her job as a result of transphobia. I interviewed Susan on the topic discrimination in the workplace, and the complex interactions of sexism, homophobia, and transphobia. She had fascinating insights, gained at a great cost to her career.
Susan also writes poetry, and read a particularly powerful piece for us.
Despite the busy schedule, I did not cover all the bases, and will have to return to New England to conduct more interviews.