The folks at Hartford Coffee Company played host to an interview with Jay Hausmann today.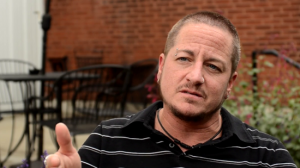 Jay and I sat down to talk about his career in IT and his experience transitioning on the job. He spoke enthusiastically about the support he has received and how his employer's support facilitated a positive experience. Talking with Jay about everything from IT culture to his writing was a joy.
Props go out to Sayer Johnson for handleing load-in and setup, Vivian Hausmann for acting as grip, and Robyn Carolyn Montague for putting me in touch with Brian and Darin at Hartford Coffee Company.