I have spent the last five days in England, conducting background interviews and shooting.
It continue to amaze me how willing people are to engage with me on the topic of gender and geekdom; and how much they have to say. More than once I have missed supper with my hosts, back in London, because an interview has gone on much longer than originally planned. The thoughtful input from those willing to talk on camera, and those that would rather not take such a public role, has been wonderful. I continue to discover on a daily basis how big a topic this is, and how deeply it touches our assumptions about gender and privilege.
Friday I went to the beautiful city of Bath to do an on camera interview with Cheryl Morgan. We talked about gender issues in gaming, science fiction, computer programing and publishing. Cheryl has fantastic insights on privilege, gender, and just about any thing else a geek might be interested in.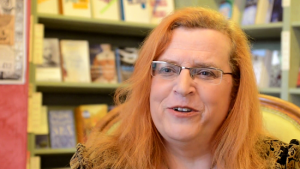 Cheryl writings at Cheryl's Musings were an indispensable source for research, and one of the early inspirations for this movie.
I want to thank Mr. B's Emporium of Reading Delights for hosting us. If you find yourself in Bath, you should check out this fantastic independent bookseller. While you are there, don't miss the recycled Tin Tin comics papering the stairwell.
Monday I traveled down to Southampton. There I had a great on camera interview with Tab Kimpton. We talked web comics, cosplay, and much, much more.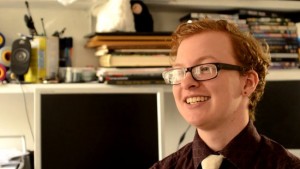 You need to check out his work.
I head back to the States on Friday. I will get in at least one more background interview before then, and perhaps even another on camera. Next stop will be the northeast United States in mid-October.